Live surf conditions and beach camera at the San Clemente Pier, Orange County California. Camera courtesy the City of San Clemente
Overview
The pier in San Clemente is one of (if not the most) popular attractions in town. The pier is open from 4 am until midnight, has good restaurants nearby and a fun small beachside community feel to it.
Surf Overview
Like any spot, there are locals who come here every day.  The sand shifts around near the pier and depending on the tide this spot can have really fun waves that are generally fast breaking.  You'll need to be quick to your feet to make the corners and it is not the easiest spot for beginners. On a north swell, the south side of the pier has some fun corners whereas a south swell will generate fun lefts on the North Side of the pier. There is also T-Street (just South of the pier) that is another fun/great spot.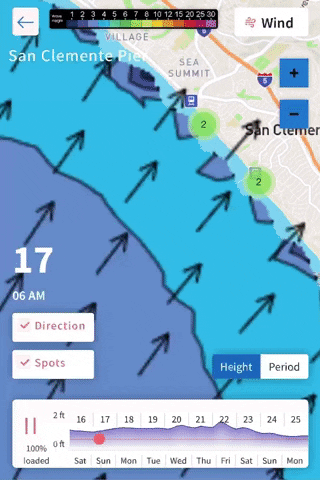 San Clemente Pier Parking:
The City has parking areas near the pier, however there are many metered spots along the streets.
– Linda Lane, metered: 10am-5pm
– Pier Bowl, metered: 10am-5pm
– T-Street, metered: 9am-7pm
San Clemente Pier Nearby (Best Bets):
Bear Coast Coffee: Some of the best coffee in town! Grab a cup of joe and a snack before or after your surf
Fisherman's:  This restaurant is on the pier.  It is one of the best spots in town to grab a beverage while watching the sunset and surf at the pier or T-Street. *Definitely crowded, so bring your patience
Pierside Kitchen and Bar:  Great place to grab a beer or cocktail and dinner while watching the sunset
Cosentino's Pizza: Easy spot to grab a slice of pizza
Caterina's Gelato:  The kids love this gelato spot!
Del Mar:  Walk or drive up to the main strip on delmar where there are great restaurants, small shops, surf shops and generally good people watching