We're super excited to announce Newport Beach native Jax Richards will be writing a weekly Socal swell forecast to help you plan your week. When Jax isn't honing his meteorologic, oceanographic or barrel-riding skills, you can follow Jax on IG @jax6street
Overview
Lots of surf on the way this week with swell mostly coming from the south courtesy of a pair of lows that tracked through the central South Pacific last week that were decently aimed at Southern California. The first pair of lows peaked in intensity early last week which will send a fun sized south (~180°) for south facing breaks Wednesday the 21st and Thursday the 22nd. The much larger swell with a very similar angle from the second larger storm which peaked in intensity a few days after the first builds steadily through the day Friday the 23rd and eventually tops out that evening. The solid swell will hold all day Saturday the 24th, and begin its slow easing trend Sunday the 25th.
–
Peaking swell this weekend ->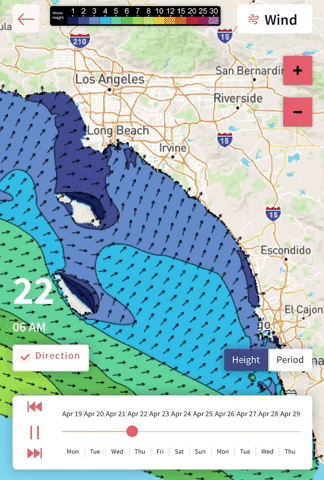 Forecast maps updated daily. *10-Day Forecasts for Premium Members (View HERE)
—
Earlier in the week, we'll see a little uptick in NW swell mix with some southern hemi mixing in, but winds look pretty suspect Tuesday the 20th, Wednesday the 21st, and possibly Thursday the 22nd as a typical springtime catalina eddy spins up with maybe even some drizzle along with it. The good news is that conditions will improve on Friday the 23rd into the weekend just in time for the swell! Weak high pressure looks to build in briefly over the weekend with pleasant seasonal temperatures throughout the region. That being said, winds still don't look ideal. Conditions are known for not cooperating in Spring, so don't be surprised to wake up to a light south wind along with some marine layer spoiling your morning surf. Keep an eye on those winds carefully day by day as conditions can cleanup midmorning and maybe even an afternoon for some select locations.
—
Best bets, tips
Definitely going to want to target the weekend, specifically the summer breaks. Earlier in the week could still be fun, you're going to want to watch those winds, but don't get your hopes up. Better to just wait until the weekend.
Larger south swell wave heights during its peak Friday the 23rd into Saturday the 24th
—
Daily Breakdown
—
Tuesday the 20th
3-4 feet (NW swell magnets like places in LA or SD could be slightly larger ) Smallest day of the week. Yet there could still be some fun corners to track down as waves will be pretty peaky with a combo of building NW swell mix and small southern hemi in the background. Winds suspect, south winds in the morning. Find a spot that handles the SE wind.
—
Wednesday the 21st
3-4+ occasional 5 feet
Similar to Tuesday. NW swell mix should trend up more slightly along with building energy from our first south of the pair, showing best late. As of now winds look pretty unfavorable as that eddy circulation continues, but not as bad for spots that can handle that SE wind in the morning. Wind could possibly lighten up some in the afternoon too.
—
Thursday the 22nd
3-5 feet (south swell becomes dominant)
Could be a pretty fun day of surf for combo breaks if the wind cooperates. Right now the winds don't look great, but definitely cleaner overall than Tuesday/Wednesday. That NW swell mix lingers, but still showing fun size for some breaks, while that first south swell tops out. Our 2nd south may start showing late, but won't add any additional size.
—
Friday the 23rd
4-7+ feet, top spots will see even larger waves late! (especially spots in OC) Looking like a good day to surf if the wind cooperates, as of now the winds look pretty light. Our largest south swell of the season so far will build steadily all day and top out late. The morning may start off a tad slow, the swell a bit inconsistent and a high tide of 4.75 feet at 7:00am, but as the swell builds in and the tide drops, it should start getting pretty good out there, especially at summer focal points that get that straight south. One thing to note here is that you're going to want to find a point or jetty, it will be pretty walled at the beach breaks. Also spots that don't get the straight south such as parts of SD and LA will be significantly smaller.
—
Saturday the 24th
5-7+ feet, top breaks will be pushing 10 feet on the sets (especially OC) Biggest and best day of surf for the week. Solid south swell (~180°) tops out and holds all day. You may want to wait for that tide to drop some which is 4.9 feet at 7:51am, but there will be so much swell in the water, a lot of breaks will be able to handle it. A weak ridge will build in this weekend with temperatures a few degrees warmer than they were in the week, but conditions still don't look ideal with light variable onshore winds in the morning. Kind of spotty throughout the region. Still shaping up to be a sick weekend!
—
Sunday the 25th
4-7+ feet, biggest early
Solid south swell will begin its slow easing trend, but will still show good size throughout the day. Conditions look similar to Saturday with more light variable onshore winds. Should be another day of fun surf though.
—
Monday the 26th
3-5 feet, biggest early
South swell will still be hanging around and showing fun size at top breaks. The winds may trend stronger onshore as a possible low enters the region. Confidence is pretty low on how this system will play out as it's still about a week out.
—
About Jax Richards
Jax Richards is a local Newport Beach waterman who likes to get barreled as much as he enjoys following the weather, studying the climate, and our earth's environment. His passion for surf forecasting began early, while surfing daily, biking to school year round, and boring his family with minute-by-minute weather updates. Jax is a fish, and it's quite evident when you see him in and out of the water as a local Newport Beach lifeguard and active Surfrider Foundation member. If you peep his IG feed (@jax6street) you'll see plenty of waves, weather updates, and a constant feed that shares the threat our oceans and planet are facing from climate change. Jax is currently attending a local community college and planning to transfer to a UC school to study Oceanic & Atmospheric Science.
—
—
If you'd like to receive these day by day forecasts every week, sign up for our newsletter here: