Overview 
4/29/22 – 5/5/22:  Not as much swell as last week, but we still have a fun spring mix of swells on the way to SoCal this week. We'll start off the forecast with a fun mid-sized Southern Hemisphere swell along with some minor NW windswell. This south swell will be the primary swell in the water, and is expected to top out Friday the 29th and into Saturday the 30th. Beginning of the workweek should die down a bit as a mix of swells linger. We are expected to see new long-period forerunners build in on Wednesday the 4th as a fresh Southern Hemisphere swell builds in. This swell is coming from a storm that pushed across the SouthWest Pacific a few days ago, and should be the biggest run of south swell we've seen all season, with an expected peak for next week's forecast. This run of SW/SSW swell should start off with a good amount of west in it, so more breaks will be able to get surf from this run of swell compared to one that is straight from the south. We may also see some late season WNW swell late in the forecast, but will most likely show to start the week after. 
Pretty typical spring conditions expected this week. Most mornings look to start off with south wind and marine layer, but with manageable conditions at times. Right now Saturday the 30th is looking like the day with the lightest morning winds. Most of the afternoons should stay on the lighter side, so don't rule out an afternoon session if the morning starts off with some bump. Temperatures through the week will be relatively mild, with highs around the high 60s for the coasts. Last week our local sea surface temperatures dropped down to the low to mid 50s due to persistent west wind upwelling. As of now, those SSTs have already bumped up for most of the region back into the low 60s.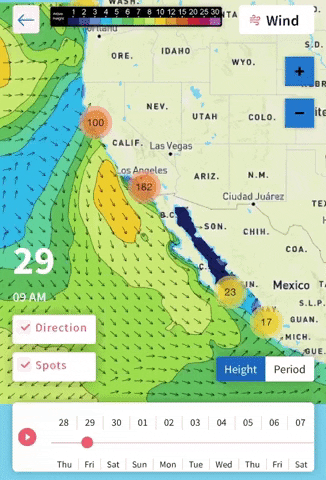 Best Bets 
Target the first few days in the forecast as mid-sized south swell peaks. Specifically Saturday the 30th, as the morning is expected to see the cleanest conditions. 

Small to start the workweek, but building Southern Hemi Wednesday the 4th and Thursday the 5th will result in more fun surf for southerly exposures. 

More swell for next week's forecast. A decent size south swell and smaller late season WNW swell expected
Day to Day Breakdown 
Friday the 29th: 3-4+ feet 
Fun sized surf to start off the forecast as new south swell tops out and some NW windswell mixes in. It's going to be a bit funky out there though due to the short period NW energy and light south wind expected to get on it early in the day. Still a little bit of opportunity out there but don't expect anything great. 
Saturday the 30th: 3-4+ feet 
Primary swell will be the holding south swell in the water with still a little bit of NW windswell. This will be a better day to target compared to Friday due to lighter winds in the morning. That morning tide push will be the window to target. Afternoon onshores aren't looking too bad, with just a light to moderate SW to W wind forecasted. 
Sunday the 1st: 2-3+ feet 
The first day of May is expected to start off a bit messy, particularly for Orange County through San Diego as a stronger coastal eddy is forecasted to spin up. There will still be some surf in the water as that south swell eases and small NW windswell energy hangs in there. Going to be harder to find fun surf this day, but conditions look cleaner up north from Santa Barbara to LA. 
Monday the 2nd: 2-3 feet 
The surf should get pretty small to start the workweek. The south swell mostly bottoms out along with minor NW windswell. We could see continued south wind in the morning with the same areas up north probably seeing cleaner conditions. The afternoon shouldn't pick up too much with maybe some opportunity then. 
Tuesday the 3rd: 2-3 feet 
Combo of small swells bottoms out, with size similar to Monday. It should still be rideable for most of the region though. Unfortunately conditions don't look too good again, with more south wind possible. The wind may ease through the afternoon.
Wednesday the 4th: 2-3+ feet 
Old combo of swells will be down to leftovers, as the beginning of the new round of Southern Hemisphere swell starts to show. It shouldn't add too much size this day, but there may be a few bigger sets before dark. The weather models are still showing typical spring conditions with more unfavorable local winds possible. 
Thursday the 5th: 3-4+ feet 
One of the biggest days in the forecast. New Southern Hemisphere swell is expected to build all day, and show best size in the evening. There could be bigger sets than the numbers above for select south facing breaks late. We may see some late season WNW swell build in late too, but lower confidence with this swell. Conditions are still suspect. 
Long Range Forecast 
More swell to look forward to for next week's forecast! The main story will be the run of swell from the South Pacific during the first week or so of May. This energy will peak around the weekend of May 7th, and will be the biggest run of south swell for SoCal this season. It won't be anything special, just a typical decent-sized SW/SSW for May. In the North Pacific, a late-season storm is soon expected to take shape and deliver a long-period WNW swell to the West Coast next week. SoCal will be smaller, but winter breaks could get kinda fun on this swell.
– Jax Richards @jax6street
---