San Onofre is a very consistent reef break that is located in southern California in San Onofre State Park, at the very South end of San Clemente. San Onofre can be recognized by the iconic nuclear plant at the south end of SanO. The location is both easy to find and accessible to most people, particularly since you can park about 50 feet from the water. San O will break on any swell direction making it one of the most consistent waves along the coast, so you can catch fun waves on any given day. San Onofre is a cobblestone bottom and generally has long mushy waves that can offer long rides on a longboard. This is not a place to bring a shortboard (unless the waves are pumping or you are a super small grom that doesn't need a lot of foam). Booties are recommended, particularly on low-tide , as the rock bottom will tear up your feet.
---
There are Four main spots at San O (from South to North):
Dogpatch (one of the places along the coast you can bring your dog and let them roam free off the leash!). Also, this is the spot where you can ride wavecraft with a paddle (ie: SUP, Canoe, Kayak, etc)

Four Door's (Next to The Point, these two spots almost blend together, but it helps spread out the crowd)

Old Man's (You'll see the majority of people line up on this break too)

The Point (This is the main break, particularly on a larger South Swell)
Crowds at San O:
San O is SUPER crowded nearly every day of the year, however, the playing field is pretty wide and you can catch waves when they reform on the inside, if you don't want to wait for the sets on the outside.
Best Swell Direction:
San O will pretty much pull in any swell, but large South swells in the summer and large North swells in the winter months present the most opportunities for waves.
-> Example of a South Swell that will fill in San O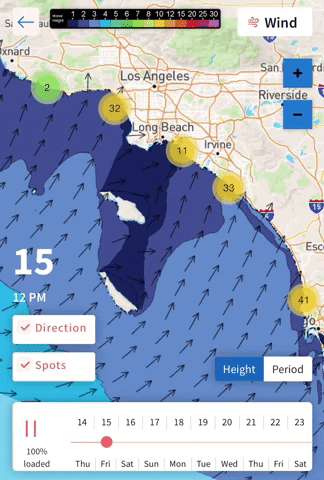 Insider Tip:
The only way to drive into San O is through the Basilone exit off of I5, from there you'll need to likely wait in line to get through the park station. Arrive early, particularly on weekends, because the line to get into San Onofre can take an hour+ on some days. While there are many spots to park, it is still limited and they keep a watchful eye on the situation to make sure there aren't too many cars allowed in.
Super Insider Tip:
The firepits along the beach are some of the best locations in Orange County to bring the family, enjoy a sunset, hang out with your friends, grab some surf and generally enjoy the California lifestyle.
Currents and Dangers:
Reef bottom: with sharp sea creatures that like to cut up your feet
Current: at the north end of San O, particularly on a large South swell, the bay between the San Onofre point and Church to the North, is a big funnel which can pull many out to sea.
People: There are a lot of them here and since this is a spot with all ranges of surfer, watch out for others
Tides:
San Onofre breaks on all tides, but low tide exposes a lot of rocks, which can chew up your new/expensive singlefin. High tide is a good time for beginners to hop off the sand and paddle straight out into rolling mushier waves
Forecast:
---
Spring Surf
The spring season is a fun time of year to visit the San Onofre. Southern California starts to see South swells and warmer water, plus the full force of the summer crowds has not shown up yet.  In Spring you can enjoy the first South swells of the season and lingering Northwest swells, which can offer fun, peaky surf.
Summer Surf
During summer, the waters are warm, but the waves are smaller and inconsistent. The best chance for catching a decent wave is if there is a tropical storm that pushes swell up from a hurricane off Central America OR a South swell from across the Pacific from Tahiti. Summer at San O is fun, even if the waves are small, vibes are high!
Fall Surf
Fall is the most favorable time of year to visit the San Onofre coastline. At this time, the water is still warm, and the crowds thin out. The water is warm and the days are sunny. You're also more likely to catch good waves at this time of year with summer South swells and potential NW swells starting to kick up.
Winter Surf
The water is cold, but you can still enjoy surfing here with fewer people. If a NW swell fills in, the crowds will fill back in, but definity winter 4/3 or 3/2 wetsuits are required. On magical winter days, you can find larger NW swells and Santa Ana Northeasterly winds to groom the peaks.
Bottom Line
San O offers good vibes and fun waves, any day of the year. Bring a positive attitude, your friends, a board with A LOT of foam and some cold beverages to enjoy on the beach.
---
See Also: