Overview 
4/15/22 – 4/21/22:  A smaller week of surf is in store compared to last. Expect less NW energy out there and a bit more south swell in the water. Over the weekend an easing Southern Hemisphere swell from last week will be lingering but still showing rideable waves for southerly exposures. Just a small mix of NW energy is expected to be in the water then. Through the middle of the workweek size should bump up a notch or two as a new Southern Hemisphere swell builds in and peaks around the 19th/20th. There should also be a slight bump in NW energy then as well. Overall nothing noteworthy this week, but still some rideable/fun surf to track down for a few days if they can line up with some cleaner windows. 
It will be another week of less than ideal conditions if you're looking for a clean surf. Most mornings look to start out slightly onshore, although early in the day still being the best window of the day for most of the week. Over the weekend, a trough will approach the region, bringing stronger onshore flow and cooler conditions. Temperatures will gradually warm up from there towards the workweek, staying right around average for this time of year at the coast. No chance of precipitation this week, but we may have a slight chance to start next week's forecast. 
Best Bets 
– Friday the 15th could be kinda fun for some breaks as some Southern Hemisphere from last week lingers. 
– A mix of south swell and NW swell peaks midweek with potential for a few corners then.
– Watch out for southeast wind to start off each day, some days may clean up mid-morning.
Day to Day Breakdown 
Friday the 15th: 2-4 feet 
Could be an okay day to target depending on how much south wind gets on it in the morning. The dominant swell in the water will be an easing Southern Hemisphere along with just some small NW energy. Afternoon onshores look to blow things out. 
Saturday the 16th: 2-3 feet 
A foot or two smaller than Friday as south swell continues its decline and very little NW energy mixes in. Light onshore flow looks to start off the day followed by a gusty west wind in the afternoon. Cleanest window will be in the morning. 
Sunday the 17th: 1-3 feet 
Our little mix of south swell and NW mix bottom out in size. There may be a slight increase in NW windswell but it won't be much. Morning conditions may start off relatively clean before a moderate west wind kicks in over the afternoon. 
Monday the 18th: 2-3 feet 
Size slowly picks up as our new Southern Hemisphere swell begins to show. Just minor NW energy mixing in. Should still be pretty similar in size compared to the last few days. Morning conditions may be on the lighter side, with just a tad of south wind expected. Moderate west wind should pick up over the afternoon. 
Tuesday the 19th: 2-4 feet 
The slow building size should continue. The dominant south swell builds to a peak over the afternoon hours, as a shorter period NW swell is expected to bump up some. Another morning of below average conditions is looking likely though. Keep an eye on mid-morning for the cleanest window of surf. 
Wednesday the 20th: 2-4 feet 
Size holds from Tuesday as south swell tops out and smaller short period NW swell hangs in there. Could definitely be some fun peaks to track down if those morning conditions can cooperate. Right now models are still showing south wind.
Thursday the 21st: 2-4 feet 
Waves should be on the slow downward trend as south swell is expected to lose steam while short period NW swell mostly holds. We may actually see a new WNW groundswell show late, but confidence is low at this time with that potential swell. Conditions still suspect.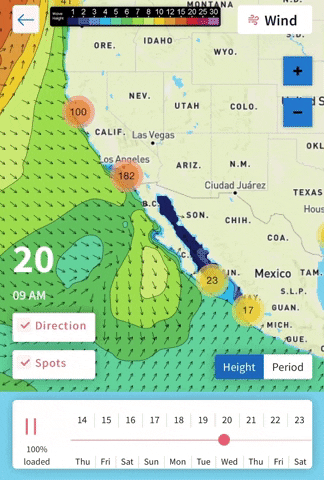 Long Range Forecast 
There are a few things to look forward to in the coming weeks beyond this week's forecast. Starting with the North Pacific, while usually later in April we don't see as much activity, some late season action is expected. This is mainly due to a Western Pacific typhoon transitioning into an extratropical cyclone and feeding into the jetstream. Because of this we could see a fun pulse of WNW groundswell and possibly some light precipitation here in SoCal.
NorCal is expected to receive much more late season rain/mountain snow, but unfortunately won't really put a dent into the long-term drought situation California is entering. Also, a series of storms in the South Pacific look to take a decent track towards the west coast in the coming days. This means confidence is rising that we may finally see a bit more sizable round of Southern Hemisphere swell for the middle of next week's forecast.
– Jax Richards @jax6street
---
If you'd like to receive these day by day forecasts every week, sign up for our newsletter